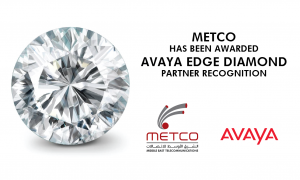 Kuwait City, Kuwait, January 05, 2017. Further to many years of fruitful collaboration, METCO has been selected as an Avaya Edge Diamond Partner – Avaya's highest designation. Avaya revamped its partner certification program to recognize the changes in the marketplace and better reflect the abilities of those companies marketing Avaya solutions and products.
METCO, Avaya's experts in Kuwait, is now an Avaya Edge Diamond Partner. Diamond is Avaya's highest rating. Formerly METCO was a Platinum Partner – then the highest level. METCO is also Avaya's Partner in Customer Excellence.
The new Avaya Diamond status reflects METCO's commitment to customer satisfaction and its design, integration and support skills across Contact Centre, Unified Communications and more, across Kuwait and the region.
METCO has built a reputation for service excellence, winning the Avaya "Contact Center Deal of the Year" 2011, AVAYA Outstanding Individual Contribution Award, and AVAYA Best Implementation Contact Centers Award 2012, AVAYA Partner of the Year-Enterprise, and AVAYA Data Networking Partner of the Year 2013, AVAYA APS Partner of the Year – GGM, and AVAYA Partner of the Year – Customer Experience 2014, in recognition of its consistently high standards and outstanding business results."